Our Team
Navigate STL Schools is made possible through the following staff, parent navigators, and board members.
---
Team
Anna-Stacia Allen - Executive Director
Originally from Toledo, Ohio and a graduate of The Ohio State University Anna-Stacia has spent her career working in non-profit and education-based organizations. She returns back to the St.Louis area extremely passionate about helping to provide equitable access to education for all families. 
Catherine Baez- Director of Family and School Support
Catherine a Native New Yorker, spent over two decades teaching and leading schools in some of the most under-resourced communities within New York City. Launching her career in Early Childhood Development, Special Education, and incorporating Drama Therapy, she is committed to fostering relationships with School Leaders, empowering St. Louis Students and Families in navigating the school system for the city she now calls home!
Rachel Nevels - Communications & Development Director
Rachel Nevels is a storyteller, and global professional with a diverse background in marketing and communications. Throughout her career, Rachel has used her innate gifts of writing, socializing, and creating experiences to add value to brands, and ultimately their clients. Rachel's genius is being able to immerse herself in the mission of a brand and paint that picture from the inside out. From small businesses to large charitable foundations, Rachel's mission through her ever evolving work is to empower people to live full and authentic lives.
School & Community  Navigators
Tiara Weaver-  School & Community Navigator, North City
Tiara is a St. Louis native. She grew up, was educated, and now lives in St. Louis City. She is passionate about building relationships and serving others. Tiara has 5 years of classroom experience as well as administrative leadership. She brings to Navigate a rich and dynamic work history and desire to improve the community around her.
Darius Washington -  School & Community Navigator, South City
Darius Derrell Washington graduated from Harris-Stowe State University with a degree in business administration and a concentration in marketing. During his Harris-Stowe career, Darius was involved in his community through Alpha Phi Alpha Fraternity Incorporated and The Village Mentorship program. He is a Kansas City native who strongly desires to improve the community. A passage from the poem "Don't Quit" defines him as a person.
"Success is failure turned inside out,
The silver tint of the clouds of doubt,
And you never can tell how close you are,
It may be near when it seems so far;
So stick to the fight when you're hardest hit -
It's when things seem worst that you must not quit."
"I am excited to serve you all as your South City Navigator"
Samantha Pipkin-  School & Community Navigator, Early Childhood Education
For the last 14 years Samantha has served children, families, and teachers. She has taught and led early childhood facilities in best practices. Her focus has been on ensuring the whole child's needs are met and creating collaboration with teachers and families. She holds a Bachelors in Psychology, as well as a Master of Teaching degree from Columbia College. Samantha is a lifelong learner and is currently working toward a degree in Clinical Mental Health Counseling at the University of UMSL.
Board Members
Dr. Renee Racette
Dr. Renee Racette is a lifetime-certified chemistry, biology, and mathematics teacher in addition to holding a lifetime principal's certification in the state of Missouri. She holds a Masters in Secondary Administration and a Ph.D. in Educational Leadership and Policy Studies, both from UMSL. She spent 13 years in the St. Louis Public Schools in a variety of roles from chemistry teacher to school leader. She currently works as the Director of Research, Evaluation, and Strategic Learning at Rung for Women. Renee believes deeply in the mission of Navigate STL Schools and is keenly aware of how hard it is for families to navigate the complex landscape of school options in St. Louis. She aims to build an organization that the community can trust as THE source of unbiased and unfiltered truth about all schools in the St. Louis region while also pushing, alongside other stakeholders, to tear down the oppressive and racist systems that continue to plague our region, more specifically our schools.
Matthew Christian - Treasurer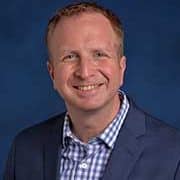 Khris Johnson-DeLoatch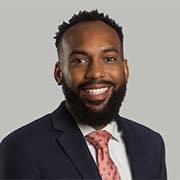 Khristopher Johnson-DeLoatch is an attorney at Armstrong Teasdale, where he handles disputes for companies of all sizes. Khris earned his J.D., with honors, from the University of Missouri School of Law in 2019. Prior to law school, he was an Algebra teacher and curriculum specialist.  Outside of his practice, Khris is active in the community, serving as the CLE  Chair of the Bar Association of Metropolitan St. Louis' Young Lawyers Division and as a Board Member for the Teach For America St. Louis Alumni Board. Khris earned his J.D., with honors, from the University of Missouri School of Law in 2019. During his time in Columbia, he served as the National Mock Trial Director for the National Black Law Students Association and as the Chair of the Board of Advocates. Khris was also on the Dean's List and a member of the Order of the Barristers. Khris earned recognition for his work with the MU Thurgood Marshall Regional Mock Trial Team in 2018. Khris earned his M.Ed. in 2015 from Marian University and B.A. in Economics in 2013 from Ohio State University.
Samantha Smith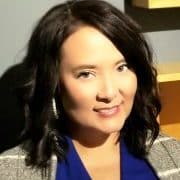 Dr. Sam Smith is a passionate advocate for educational equity and has enjoyed a career in education for the past fifteen years. She has served as an English teacher, instructional coach, and assistant principal in the St. Louis Public and Maplewood Richmond Heights school districts. She earned her BS in Secondary English Education from the University of Missouri-Columbia (2005), MA in Educational Leadership from Maryville University (2009), and EdD in Education Administration from Maryville University (2017). She holds career certifications in 9-12 English and K-12 Reading, as well as initial 9-12 Principal and K-12 Superintendent certifications. Dr. Smith has spent over a decade coaching high school policy debate, sending students to national competition three years in a row. She serves on regional AdvancED school accreditation teams annually and enjoys reading, cooking, and exploring St. Louis. Dr. Smith currently works as an Assistant Principal at Maplewood Richmond Heights High School in the Maplewood Richmond Heights School District.
Joshua Johnson- President
Joshua is a St. Louis native and graduate of SLPS as well as St. Louis Univerity. A proud father of one he is also the founder and CEO of Dope Dad. His organization is a network of fathers with a mission to highlight, encourage, and inspire the positive relationships and interactions between fathers and their children. Joshua has a passion for youth and enjoys utilizing his community connections to make an impact in their lives.
Christopher Geden
I like to believe that I'm an outcome-based leader who tries to understand and help the youth, families, and communities in which we serve. Through engagement, whether it be at the Tower Grove Farmer's Market or at a recreation center.
Dr. Courtney Belfor
Dr. Courtney Belfor is a distinguished educator with over ten years of
experience. Her lifelong dedication to student achievement is what makes her
an iconic symbol in education.
"I consider it an honor and privilege to work with children and their families.
My mission is to inspire, encourage, and assist all children in reaching their
full academic potential. Most emphatically, it is my personal belief that this is
done through a team effort comprised of family, school, and community. This
is the path that will enable us to support today's youth."
Dr. Belfor's dedication to the impact theory, equity, excellence, and inclusion
in our schools is what sets her apart from others. This desire is consumed by
her thought that "students will make their own positive and lasting impact in
our world."
Dr. Belfor earned her BS in Business Administration from Southern Illinois
University Edwardsville (SIUE), MA in School and Professional Counseling
from Lindenwood University, MA in Education Administration from
Lindenwood University, and an Ed.D in Educational Leadership from
Maryville University. She currently serves as a Guidance Counselor in Saint
Louis Public Schools.
If you have any questions about our team at Navigate STL Schools please contact us today.