Have an idea or question about the site?
We would love to hear your feedback.
Schedule Your Navigator Appointment
Our services are free: Enrollment and application support, school search tools, free individualized support, and advocacy tools and resources.
Navigators are available to talk in person or virtually throughout the week and weekend. Appointments typically take 45 minutes.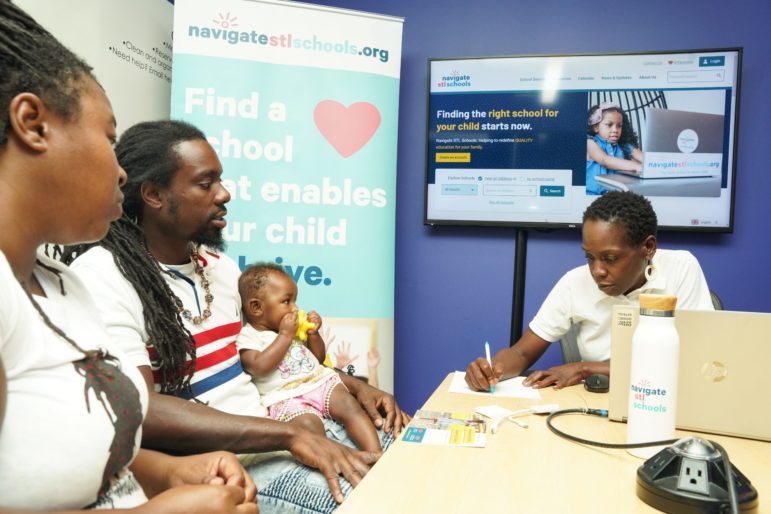 General Navigator Appointment
Secondary Education Specialist
Cita con Navegador en español
A Helpful Guide
Searching for your child's ideal school can be an intimidating process. However, you don't have to balance all of it by yourself. Our network of specially trained and local School Navigators can answer questions, provide resources, and support you throughout the entire process.
What Do School Navigators Do?
Navigators act as advisors, making sure that all doubt is removed from the school search process and that you are as informed as possible.
Here are just a few things our Navigators can do for you:
Answer questions about schools in your area and all across St. Louis
Walk through information from our School Search Tool
Help determine what's important to you and your child in a school
Help you discover new data about possible choices
Prepare you for school visits and interviews
Provide support in the application and/or enrollment process
Connect you with quality resources for your child's specific needs
Who are School Navigators?
School Navigators are staff members dedicated to providing St. Louis parents with all the guidance they need to make the best decision for their families.
Navigators are:
St. Louis residents, many with children in school themselves
Well versed in the St. Louis educational landscape
Bilingual
Specialists in special needs education
An empathetic and unbiased advocate
Why Use a Navigator?
As a prospective or current parent, balancing in-depth school research with daily life can be a headache. Working with a Navigator as you utilize the School Search tool can help make your journey as smooth as possible. Our Navigators provide support tailored personally to you and your family's needs. Plus, just like all of our tools and services, School Navigators' services are 100% free.
How Can I Help?
We are always looking for educational advocates and will have many volunteer opportunities throughout the year. If you are interested in being a volunteer, reach out to connect@navigatestlschools.org.
---