Have an idea or question about the site?
We would love to hear your feedback.
Enrollment & Application
Learn how different school types handle enrollment as well as the important deadlines to keep in mind throughout the year.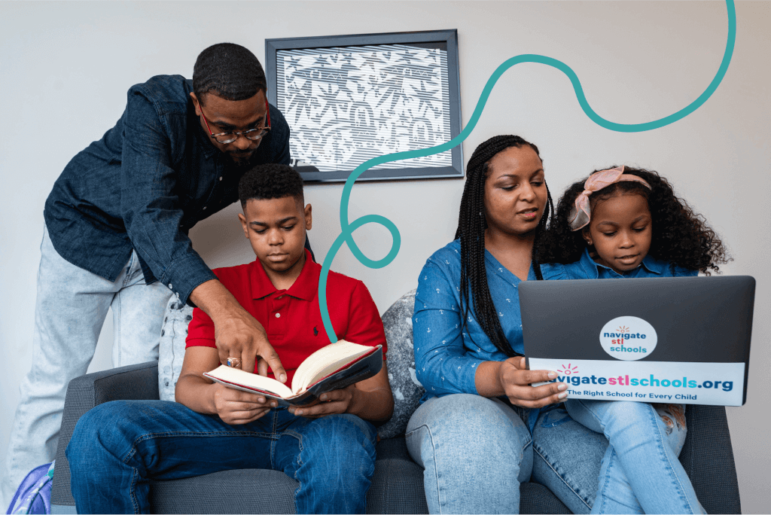 On this page
How The Enrollment And Application Processes Work
This section will walk you through how the enrollment and application process works broadly for each type of school. It is important to keep in mind that some schools begin accepting applications in September or October of the year prior to when your child would begin at that school.
The sooner you start the application process, the better chance your child will have of getting into your top-choice school. Some schools also have specific admissions requirements and will only accept students who meet those criteria.
Our School Navigators can assist you in finding a school in St. Louis. Schedule a free appointment today!
---
Each School Type Has A Unique Process
District Public Schools
What You'll Need To Enroll In A District Public School:
Copy of the birth certificate
Immunization record
School records to include:

Report Card(s)
IEP (if applicable)

Proof of current address (typically a utility bill or other official mail)
Recommended information:

School physical
Any legal paperwork that may be necessary depending on your situation. For example, proof of a name change, proof of guardianship (if different than the child's birth certificate).
Magnet Schools
What You'll Need To Apply To A Magnet School:
Complete an application online at www.slpsmagnetschools.org

There are several application windows throughout the school year and there are two lottery rounds, typically in October and January

To apply to a gifted school, your child will need to be tested and meet the score requirements for giftedness. Within SLPS, all gifted testing is done through the central office. To schedule gifted testing, please call the Gifted & Talented Office at 314-345-2435.
Magnet schools may require you to submit additional information for your child's application to be considered complete (grades, test scores, and attendance records are examples)
Once your application is complete, the school will determine if you meet their admissions criteria
Some magnet schools have more applications than seats and those schools will run a lottery to randomly select from a pool of qualified students. To learn more about how the lottery works, visit the SLPS website.
Charter Schools
Each Charter school handles the application and enrollment process differently. Look at their school's profile page for further information.
Private Schools
Each Private school handles the application and enrollment process differently. Look at their school's profile page for further information.
Enrollment & Application Recap
You've learned about how enrollment works at traditional public district schools, often called neighborhood schools.
You've learned about the application process and how your child must be accepted to enroll at a magnet school.
You've learned charter and private schools handle enrollment in a variety of ways and you will need to further investigate how a school you are interested in handles the application and enrollment process.
---