Have an idea or question about the site?
We would love to hear your feedback.
Parent Profiles
Learn how to gain access to resources, data, and opportunities to be heard through our Parent Profiles.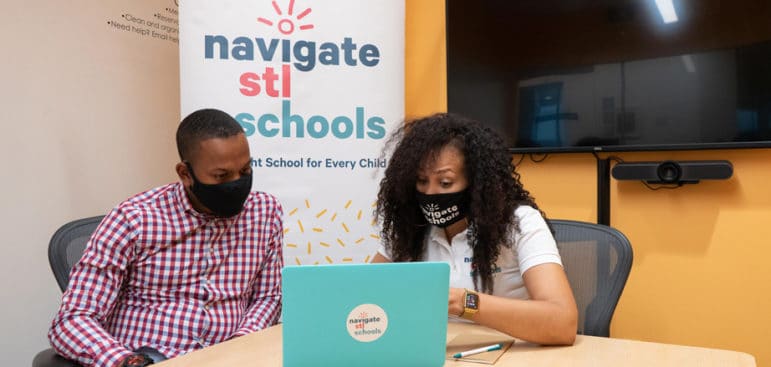 A Tool Tailored To You
Gathering the right information is critical when searching for your child's perfect school match. Creating a Parent Profile opens up personalized resources to help enhance your experience. Paired with our other tools and resources, a Parent Profile can help you collect, manage, and evaluate all the data necessary to find the ideal school for your child.
Create your own Parent Profile here.
Benefits of a Parent Profile
Your Parent Profile opens up a wide array of options to elevate your education search.
First, while using our School Search tool, a Parent Profile allows you to save individual schools as favorites. That way, you can return and compare data from across a selection of schools across St. Louis.
While that's happening, you'll receive exclusive access to new features, newsletters, updates, and info about our educational and community-driven events around the city. Also, information about relevant scholarship and community assistance resources will be delivered straight to you through your account.
On top of all that, users with Parent Profiles will be given the chance to share their voice and opinion through focus groups and other interview opportunities.
Demographic Information
When you create a Parent Profile, you'll be asked to provide some demographic information. This is so that we can understand what additional, specific resources might be available to you. We guarantee that your personal info will remain confidential. You may also choose to opt-out of providing this data and continue to use all the tools at your disposal.
Don't Have A Child in School?
If you're an expecting parent, doing some early searching for schools for your future child, then creating a Parent Profile can be a fantastic way to save your thoughts periodically and revisit them when your child reaches the age of school attendance.
Now, what if your bundle of joy is all grown up and graduates from high school? Well, hopefully, your experience with Navigate Stl Schools was informative and helpful. You can feel free to hold on to your profile and leave us a review. Or, if you prefer, you can close the book and delete your account here.
Next Steps
---