A Head Start to Early Childhood Education with Stacy Johnson
September 5, 2022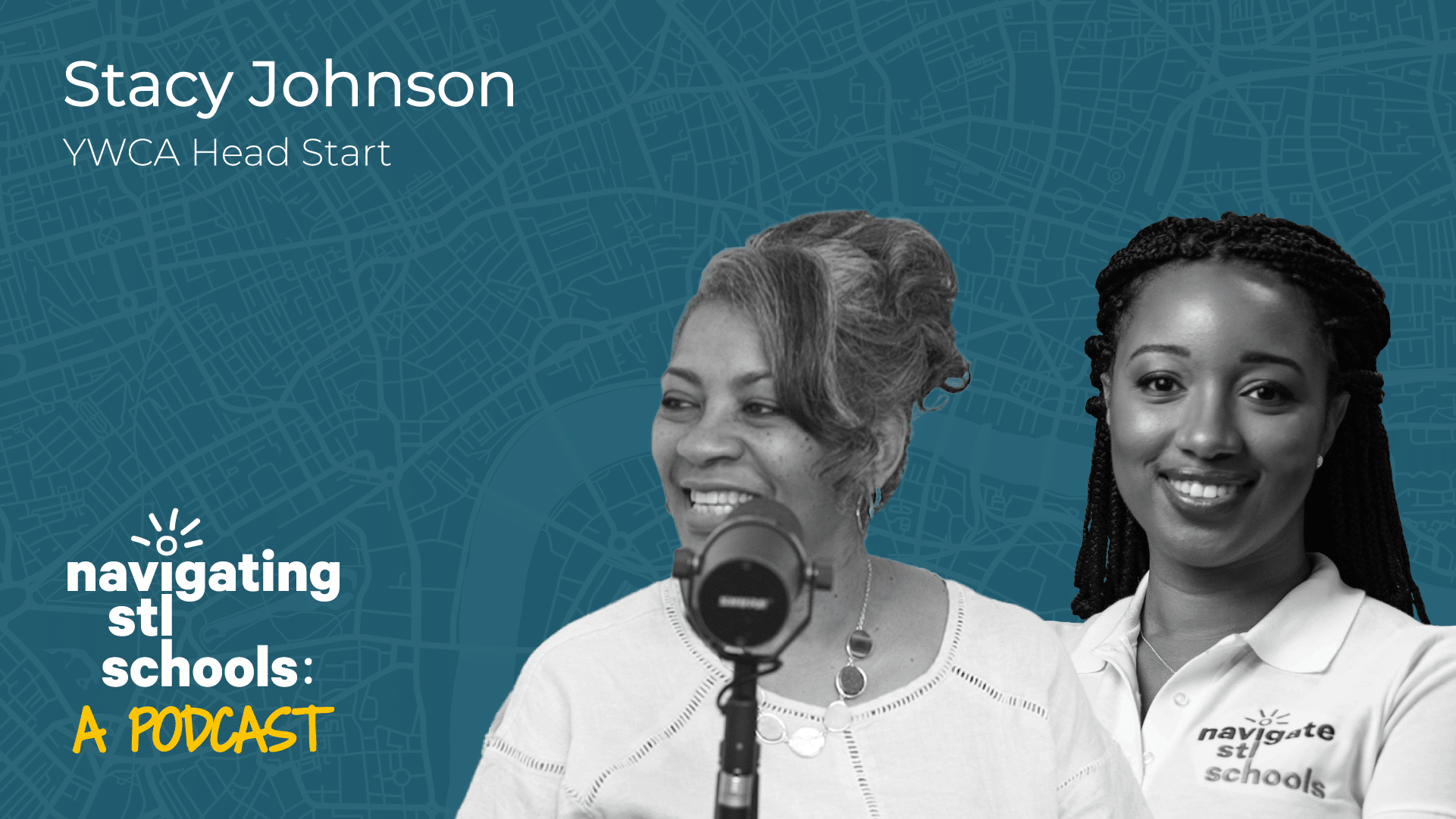 "We're intentional and we know that we have documented proof that the children that we are serving have made great gains."

Stacy Johnson
Today's guest is Stacy Johnson, the Chief Program Officer/Director of YWCA Head Start, a federally funded early education program that provides education, child care, and family support to low-income families. Stacy sits down with Staci to discuss what makes Head Start stand out over standard pre-k programs, misconceptions about early childcare, how Head Start is tackling school readiness, and the difficulties families face in the early childcare space.
Stacy's K-12 Story

Stacy is a product of the University City School District.

She went to what used to be Northeast Missouri University, now called Truman State University for undergrad.

She got her masters at National Louis University in Illinois.

What inspires the work that you do today?

Stacy is inspired by the children and families that Head Start provides services and opportunities to as well as the staff that she oversees

What is Head Start?

It's a federal funding source that utilizes research done in the field of early care and education to map out the best way children can learn and how to apply the practices.

With the funding, they are allowed and able to serve low income families.

What's the biggest difference between Head Start and other pre-k programs or elementary schools?

With all things, the difference is funding.

Stacy doesn't see any difference as far as performance standards, compliance items, and school readiness goals that need to be established for each child.

A mom and pop childcare provider can do the same thing if they have the funding to provide resources.

How do families apply for Head Start?

Enrollment usually comes from word of mouth but they also do some advertising through radio, newspaper, and billboards.

If a family is receiving SNAP, they are automatically eligible to receive Head Start services.

What is the benefit to parents for choosing Head Start versus a traditional pre-k program?

Head Start focuses on parent engagement, families, and the whole child by providing support with health, family, and mental health services.

They are heavily engaged with parents in terms of providing additional education opportunities, whether it's parenting skills or higher education.

There are a lot of wraparound services to help families sustain themselves and become the family that they want to be.

What is one of the biggest misconceptions in the work Head Start does?

A big misconception is that they just babysit.

Your child is going to learn something.

What is one of the greatest challenges for education in St. Louis, particularly in the early childcare space?

Funding, facilities, and opportunity.

So many parents need child care so they can work, but aren't really tuned into what type of setting their child should be in.

Parents need to be led to the resources that are available so they can find the information about the best child care options for their family.

What has been the biggest challenge or shift in the space of early childhood education in the last 2-3 years?

The biggest shift has been the focus on school readiness.

With that, Head Start is ensuring they are collecting data and providing training to teachers as new things are learned about how children develop.

How is YWCA Head Start preparing kids to transition into Kindergarten?

Head Start has an in-house committee for school-readiness goals that is made up of every unit they have: health, disability, mental health, and social service.

The center managers bring the data, discuss what the data means with the educational coaches, and address any shortcomings through training.

What is the spark in the curriculum that keeps students and families engaged?

They utilize 1 on 1s and keep the class sizes small so there are more individual opportunities to engage children in their learning.

They've incorporated trauma awareness as a part of their approach.

What are the biggest factors Head Start encourages parents to consider when they are choosing elementary education?

There are over 25 school districts, so they try to assist parents in navigating their way through that.

It's important for parents to understand their options in St. Louis and relating that to the style of learning that their child has.

How is Navigate STL Schools positioned to support Head Start's work?

Navigate has done the work and they have the information that Head Start is looking for.

The Head Start parents have consistent access to information about what's happening in the school systems, learning techniques, understanding timelines and strategy.

What gives you the most hope considering the work Head Start does and how the future will be shaped?

In Missouri there's now money and interest in figuring out how to elevate early care and education.

How do people find and learn about YWCA Head Start?

Phone: 314-427-4940

With increased money and interest in the field, they are trying to attract workers as well.