Reimagining Education Access in Missouri with Cici Tompkins
November 7, 2022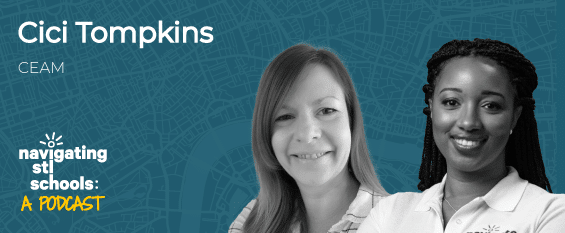 "It's about parents being empowered to create better options for more families all across the state."

Cici Tompkins
Today's guest is Cici Tompkins, Director of Children's Education Alliance of Missouri (CEAM), an organization on a mission to improve Missouri's K-12 educational system. Cici sits down with Staci to discuss how CEAM is helping parents find the best options for high-quality education, the first year of MO Scholars scholarships and grants, the current lack of education options for residents outside of St. Louis, and the ongoing efforts to pass new and improved K-12 legislation.
Cici's K-12 Story

Went to two private schools in New York, then private school in St. Louis that wasn't a good fit

Later went to a great public school in the Clayton District

She was really fortunate to explore different options and to be able to explore both options – private and public.

How does your experience tie into what you do today and what is CEAM?

CEAM stands for Children's Education Alliance of Missouri

Cici's personal experience of being able to explore the options opened up her mind to know parents aren't limited to doing their best at the neighborhood school.

CEAM works with parents and empowers parents to improve education in MO

They take parents to the capital to work on K-12 education legislation

"It's about parents being empowered to create better options for more families all across the state."

There are over 125 different school options and that can be really difficult to navigate. When you talk about creating other options, what does that look like and what does that mean when it comes to St. Louis's education challenges?

There are a lot of great options in STL already – charter, magnet, and public.

A lot of the private schools previously weren't an option for families, because of the financial barrier of attending a private school.

CEAM is creating new pathways to access some of those programs.

CEAM passed a new scholarship program, that gives parents the opportunity to pay for private school education.

In addition, there was a new program that was passed in 2018, and there was another law that was created to improve it called the Missouri Course Access and Virtual School Program which gives families over 18 different programs to choose from.

What is an ESA and how did CEAM get to the point where this program launched?

There are similar programs that exist in 30 different states.

MO's Scholar Program is a flexible spending account that gives families $375 per year for each child to pay for a wide variety of educational expenses.

The funds aren't just for private school tuition, you can also utilize funds left over for tutoring, therapies, books, and even gas reimbursement for getting a child to private school.

CEAM's ESA was really the effort of thousands of parents making calls, going to the capital, and fighting to make the opportunity for 10 years.

This is the very first year that the program is being utilized.

Why is a program like this so important?

As soon as you get just a mile out of the city (i.e. North County), parents really don't have the educational options there.

Their only option is the neighborhood school or homeschooling, and that just isn't enough.

"For families, a private school in their neighborhood was going to be the best fit for their child, and without that financial ability to pay for it, parents felt kind of trapped in their schools."

This is a state-wide program. Where does the money come from for the scholarships?

All money comes from donations.

Donors receive a 100% tax credit in return.

It's a win for the public school system because the money isn't being redirected from the schools.

With the way CEAM passed this legislation, there's a five-year hold-harmless clause. So they will continue to receive 100% of the funding no matter how many students leave their schools.

It's almost profitable for public schools because it creates more resources for the students remaining in those schools.

What happens if a child transfers and then can't compete with the education or the curriculum?

So far, there have been primarily success stories.

A lot of the private schools have admissions tests to assess the child to see where they are, so if they see a child is below level, they can supplement the education.

What about a family who really likes the school that they're in but just needs additional support? Is that an option?

The scholarship is $6,375, and a lot of private schools are that or less. So some families are getting an additional $2,000-3000. Any of that money they can use for support for extra tutoring or therapies or anything they might need to succeed.

What gives you hope for education for the future in the state of Missouri?

The state program is still limited to cities that are larger than 30,000 or counties with a charter form of government, but it still covers a fair population of students in Missouri

Cici really hopes to see the program grow and extend to all parts of the state.

She wants to pass more legislation and get parents involved to make this an opportunity for all students in Missouri

How do parents find out if they're eligible?

Students with IEP from public or private schools

There are two tiers:

Students with IEPs and 100% free and reduced lunch

Students with IEPs and 200% free and reduced lunch

There is a survey on their website to see if they're eligible.

What would you say is an important thing for parents to understand as they're navigating the education system as a whole today?

Be patient and explore all of your options, because there are so many more options now than a few years ago

Reaching out to an organization like Navigate STL

Identifying criteria that are important to you

How do people get involved with CEAM?

There are a lot of ways to get involved like going to the capital, which is one of the more impactful things you can do.

Cici has also organized a lot of local meetings at a local library or nonprofit space somewhere to have that opportunity.
How do people find you?

Cici's contact info is on both of those sites

There are sign-up forms for the scholarship program online

How many scholarships do you think you'll give out in the year?

There is a current cap of 3500 scholarships, although that is not available this year.

They're still working on the donation side and that next year there will be the full 3500 scholarships for students.