Improving the Literacy of Black Children with Julius B Anthony
October 2, 2022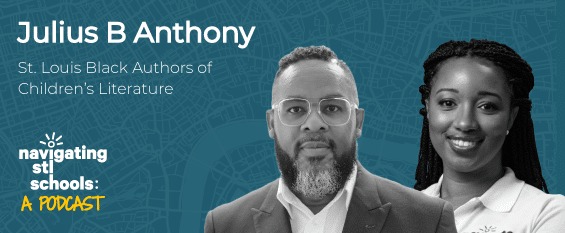 "Black children in majority Black settings need a majority of the text to reflect them in order for them to be successful in school. Period."

Julius B Anthony
Today's guest is Julius B Anthony, the president and founder of St. Louis Black Authors of Children's Literature, an organization that aims to improve early literacy in Black children and provide access to Black children's literature. Julius sits down with Staci to discuss the current state of Black children's literacy in St. Louis, the inadequacy of multiculturalism in curriculums, the importance of representation in children's literature, and bringing interest, confidence, and joy into Black children's literacy journey.
Julius's K-12 Story

Product of St. Louis Public Schools

Attended Dunbar Elementary School within an at-risk community.

Grew up in a community that was predominantly Black and was a part of the southern Black migration.

Julius came up at a time when K-8 was all in one school.

He went to Metro High School.

When pursuing Metro, the administrators at Metro said that they didn't believe someone from Dunbar could be successful at Metro.

Went to Howard University after graduating from Metro.

Julius heavily advocates for Black young people to go to HBCUs.

When he was in K-12, his experience in school was invisibility in terms of representation, and that is what drives him in his work today.

Tell me about St. Louis Black Authors of Children's Literature.

The mission is to make sure that all children are confident and competent readers by the end of third grade, because third grade reading is the marker that determines whether a child is successful in school.

There is a direct link between third grade reading success and a person's ability to thrive in life as an adult.

In St. Louis and the Black metropolitan area Black third graders annually fail at a rate of 75% on the state mandated exam.

St. Louis Black Authors of Children's Literature

has programs that they believe will change the trajectory of Black children and for Black people.

Where do you find inspiration and the catalyst for the stories that you tell?

The love in his community helped everyone make sure that they all made it in some way.

Julius gets his inspiration from people that loved him and knowing that he is the manifestation of that love.

The journey toward literacy and reading success actually began on the plantation when the Black person understood that what existed in the books in the big house translated into what they believed was freedom. A freedom they did not have access to.

Literacy isn't just reading and writing. Literacy is also the way that we communicate in the terms of our speaking, viewing, listening.

Staci circles back to discuss how often she saw herself represented in literature growing up.

She had very intentional parents who liked to buy Black baby dolls and Black books, but it was not enough.

She didn't have a full African American history class until college.

When you're centering Black children and Black characters in your story, have you received push back? And what was the thing that made you realize you were different from everyone else?

Julius hasn't received any pushback other than conversations from larger book companies who want relationships with them and ask about the notion around multiculturalism.

Multiculturalism has always been the rule to satisfy the diversity, equity and inclusion checkbox.

Multiculturalism is not enough and still leaves Black children marginalized.

Multicultural curriculums still only give Black children 3% experiences about themselves.

Black children in majority Black settings need a majority of the text to reflect them in order for them to be successful in school.

When you're creating these stories are you hoping to revitalize that passion that students have?

Their philosophy is that Black children, brown children, indigenous children particularly need the intimacy of literacy.

There are three elements to the intimacy of literacy. Interest. Confidence. And Joy.

Interest: they have to have some sort of cultural connection to the story that makes them want to read it.

Confidence: When Black children have consistent access and connection to Black children's literature, they become more confident in themselves. They become more willing to participate in the learning process.

Joy: Teachers and adults have to make the experience of learning to read a joyful experience. Too often, we make it a bad experience.

People are socialized toward joy. At school, they're not allowed to do anything without permission.

We are socializing them for something different in school than we are at home. The Believe Project tries to connect those two things.
What are the biggest challenges facing education particularly when it comes to literacy?

Race and seeing the humanity in children. There is no educational success until that happens.

American Education has never seen the humanity in Black children.

What are some of the key themes to inspire joy?

The core program is the Believe Project which builds literacy labs (a physical room) in schools and community centers where there are 1,000

new

books.

At least 80-90% of those books are considered Black children's literature.

The room is designed to look like someone's home and is filled with words like believe, soar and inspire.

They bring in local and national authors.

They train teachers to understand the importance of Black literature.

They create a "Yes" space for children.

They buy PBS Playtime Pass to have in the space.

As parents are looking for a school to prepare them for kindergarten or elementary, what should they be looking for?

Spend a full day at the school to see if it's a loving environment.

Ask them how many Black books are in their classrooms?

If they don't have a Believe Project, go check out STLBlackAuthors.com and get in contact.

Find out where the school is in terms of academics and third grade reading scores.

What else could we be doing to help families to make sure they're in a space to be able to take advantage of these resources?

It's important parents understand the things they can do at home.

Becoming really fully literate entails 6 elements: listening, viewing, speaking, visual expression, reading and writing.

Parents having conversations with their children and building their vocabulary works on these 6 elements.

Parents can find Black children's literature.

Parents can also find out where their child's literacy stands.

Where can people find the work you're doing?